Oooooweeee!! It has been forever since I've done a Letters of Intent Friday, which is so graciously hosted by
Foursons
. Never heard of it? Check it (and her!) out!!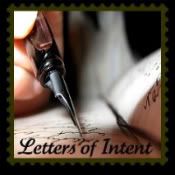 Dear Weather,
Thank you from the bottom of my tiny little heart that I woke up to 60 degree weather!! It's not often that us Floridians get to say that on the first day of October. What a special treat, for sure! Now, to get dear hubby to drag all my fall stuff out of the atic, before it's time for Christmas decorations.
Love,
ME
To Whom It May Concern,
Speaking of October…how in the world is it already October? This means I have 30 days to come up with 3 costumes. Someone shoot me now please.
Signed,
Mom Needing Costume Ideas for a 2 year old, 9 year old, and 10 year old.
Dear Me,
Bout damn time you got back into blogging! I know you've enjoyed catching up on everyone, but also feel so overwhelmed that you've missed so much. Take a deep breath. I'm pretty sure that your bloggy friends understand.
Signed,
Me feeling weird about talking about myself in the 3rd person
Dear School,
You sure are flying by this semester! This is both good and bad. And how funny was it when I sat down with an advisor and the first words out of her mouth were "Wow! You're taking quite a heavy load this semester."
Gee, thanks lady! Where were you before I signed up for my classes? Oh! That's right! Vacation!
Much Appreciation to the Advisor on Vacation,
Kara
Dear Punks in My Humanities Class,
While I understand that you just walked across the high school graduation stage a few short months ago, can ya'll try to find it somewhere in your pea size brains to muster up some respect? For real. If you were my kid, I would have to back hand you. Hard.
Signed,
The 'ol lady of the Class (at 30!)
Enjoy your Friday, and weekend friends!!